Where History Meets Flavorful Adventure
Nestled in the scenic heart of Culpeper, Virginia, Old House Vineyards is a destination that seamlessly blends history, craftsmanship, and the art of winemaking. With its compelling backstory, diverse range of wines, and innovative spirits, Old House Vineyards beckons both wine connoisseurs and casual enthusiasts to explore its enchanting offerings. Within a short drive of Lake of the Woods, Old House has most certainly become a favorite of LOW residents, even for those who simply enjoy the beautiful countryside and good food! On Mondays (except for holidays) from noon – 5pm, fabulous brick oven pizza is served from May to October. Additionally, each weekend from Friday to Sunday, your tastebuds will delight in the cuisine served up in the taproom by Green Ribbon (greenribbon.com). And if the pub is open, you can enjoy your meal there in the gorgeous space.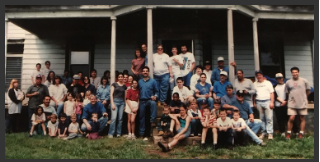 Wine and Beyond:
Old House Vineyards is more than just a winery; it's a trifecta of craftsmanship, offering wine, spirits, and beer. The winery boasts an impressive selection of wines, each with its unique character and flavor profile. From the sparkling brilliance of "Petillante" to the complex notes of "Bacchanalia," there's something to delight every palate. Noteworthy is the "Chambourcin Dessert Wine," aged in Woodford Reserve Barrels for an exquisite taste experience.
Winemaking at Old House is a meticulous process, with harvests taking place from early September to late October, ensuring the grapes reach their peak ripeness. The winemaking process includes gentle crushing and destemming, separating juice from the skins, and oak barrel aging in French, American, and Hungarian oak barrels to impart distinct characteristics to each wine.
The distillery at Old House Winery takes pride in its commitment to quality. Their spirits, such as "Diceros Barrel Aged Rum" and "Agave Nectar," are meticulously crafted without shortcuts, resulting in rich and flavorful libations. Visitors can enjoy a trip back in time at the Distillery Tasting Room, designed to honor World War II veterans and filled with historical memorabilia.
For those who appreciate a well-crafted beer, Old House Brewery offers a range of session beers, focusing on refreshment and drinkability. There are also exciting plans for collaboration projects involving barrel-aged beers utilizing barrels from the winery and distillery, promising endless flavor possibilities.
Old House Vineyards offers the unique "Old House Trifecta Tour," providing an insider's look at the production processes of brewing, distilling, and winemaking. Led by knowledgeable family members, these tours offer a personalized and educational experience.
Old House Vineyards is also a stunning venue for weddings, with two beautiful locations for ceremonies and receptions. Couples can even participate in the romantic tradition of "Love Locks" on the property, symbolizing their enduring love.
Annual Events and History:
Throughout the year, Old House Vineyard hosts events to celebrate St. Patrick's Day, Mother's Day, Father's Day, and more, promising fun and excitement for all. Their dedication to history is evident in their WWII museum and the incorporation of love-lock traditions.
As Old House Vineyards continues to evolve and grow, it remains a testament to the Kearney family's dedication to craftsmanship and the creation of memorable experiences. Whether you're a wine enthusiast, spirit aficionado, or simply seeking a unique and historical outing, Old House Vineyard in Culpeper, VA, is a destination that promises delightful discoveries and cherished memories.
Join the Kearney family on their journey and savor the rich flavors and history of Old House Vineyard. Your visit is sure to be an unforgettable experience. Don't forget to share your experience with The Licata Group.
Stay updated on Old House Vineyard's annual events by following them on Facebook, where they share details and ensure you won't miss out on the fun they offer throughout the year.
Learn more about the rich history of Old House Vineyards and its growth over the years through the Kearney family's timeline, showcasing their dedication to quality and craftsmanship.
Visit Old House Vineyards and immerse yourself in a world of history, flavor, and hospitality that reflects the heart and soul of Virginia's wine country. Cheers to unforgettable experiences!
Whether you're looking for homes for sale in Lake of the Woods VA or Waterfront property in Virginia we are your Real Estate Advisors for Stafford, Fredericksburg, Spotsylvania, Locust Grove, Central Virginia, and Greater Virginia. Thinking of selling? In any market condition, "What is my home worth?" is the #1 question asked by homeowners. If you wish to sell your home, it needs to be sold for top dollar and in a timely manner. Pricing your home accurately, Pat will partner with you to make the selling process so much easier. Get started today by calling us at (540) 388-2541 or contacting Pat Licata.
To see available Lake of the Woods properties, please visit our site.