You are moving into a new home – it's exciting but rather challenging. And we're not thinking only of packing – some 'hidden' challenges will undoubtedly come your way if you're not well-prepared. One of them is surely taking care of your furry friend while moving. Pets, especially dogs, can react nervously to the whole thing, making the process even more difficult. Luckily, there's a way to avoid issues. Here are the best tips on moving to Orange County, VA with your dog.
Why Orange County, VA is great for people with pets
Not every place is good for pets. However, Orange County is undoubtedly one of the pet-friendly ones. Firstly, you can truly enjoy the outdoors – your dog can run, play and jump as much as it wants. There are several parks and other green spaces in cities such as Orange and Gordonsville. Also, most shops allow well-behaved dogs, allowing you to go shopping with your furry friend. Finally, you'll be able to find a pet-friendly home as well – just be sure to set this as a priority in your house-hunting process.
How to make moving to Orange County, VA with your dog smooth and stress-free?
Relocations are not only stressful for humans – dogs can feel stressed out as well. The biggest reason for it is the disruption of their living space and adapting to the new environment. Dogs rely on the smells around them, so they can become pretty nervous once they need to move into an unfamiliar place. There are ways you can make moving with pets easier for your little friend and prepare for this task – so be sure to remember these tips when you start planning your move to Orange County, VA.
Let moving supplies be there for a while
Bringing new objects to the house can make your dog upset – especially if you start packing 'their' items into boxes. Thus, make sure you bring in moving supplies a bit before you need to start packing. This will allow your pet to get used to these items and have no issues once you start packing your household for the move. After going through all the steps of buying a property, hiring movers, and shopping for packing supplies, sitting in a house filled with packing materials might be the last thing you want. However, it's what your dog needs, and that's all that should matter.
Figure out the transport details
Depending on where you're coming from, you and your pet will spend more or less time in your car, or a plane, train, etc. Thus, it helps to figure out the transport details on time. If you'll need a transport box, and your dog is not used to traveling in it – get one beforehand. Let it sit in your home for a couple of weeks, so your pet can get used to it. Put its favorite toys and snacks in this transport box, so the dog can see it's a safe place to be.
In case you need to travel by plane, and this is the first time for your dog, it's good to prepare it for it. Some people recommend going together through a car wash, which simulates the sounds and vibrations to the ones you feel on the plane. But most importantly, it's essential that you are calm and that you speak to your dog in a calm, optimistic voice.
Stick to a routine
Moving house can disrupt your schedule a lot. However, it's essential to stick to your dog's routines as much as possible. This includes feeding and playtime and your routines when going for a walk. The routine will ensure your dog feels safe and calm even with all the changes around.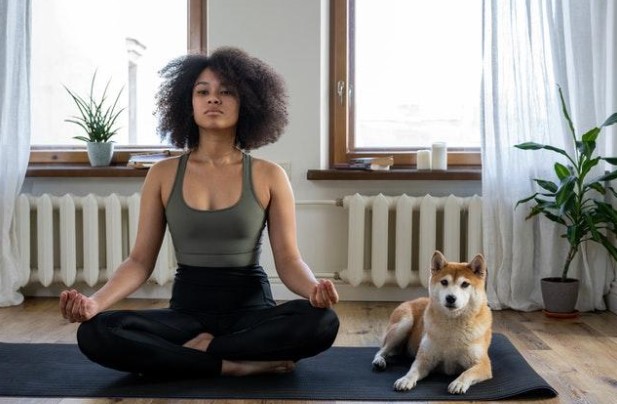 Bring all of your pet's old items
It's often recommended to declutter the old household before you start packing and throw away everything that you can replace with new items. However, when moving to Orange County, VA with your dog, try to keep most of the old things. Keep your dog's old food and water bowls, bed, and toys. Once you arrive at the new bigger/smaller home, these items will help them feel secure and recognize the new place as their new home.
Visit the vet before moving to Orange County, VA
Pay a visit to your old vet before you relocate. They may be able to recommend a new vet in Orange County, VA. Also, they could write all the necessary prescriptions in case your dog takes therapy. Finally, make sure your pet is microchipped – with the updated address. This proved to be useful for pet owners whose pets escaped during the move as they were feeling anxious and scared. Finally, take care of all the documentation, especially when moving from another state or relocating internationally.
Keep your dog away on the moving day
Once all the boxes are packed and movers are about to arrive, it's best to leave your dog in trusted hands but away from the house. Experienced moving companies, such as Zippy Shell NV, recommend you find a place where your furry friend will feel calm and safe. Ask a friend or a trusted dog sitter to take care of your pet while movers do their part. Strangers taking away items from your home are what dogs see as a threat, making them extremely nervous and sometimes aggressive.
Adapting to the new space
After the move, it's time for the last step to introduce the dog to the new living space. Firstly, make sure the new home is safe for a pet – remove any hazards, close all the doors and windows and then let the dog into the house. As everything is new, your dog will explore the space by trying to smell and touch almost everything in the house. That's why the environment must be safe for this new curious resident. Moving to Orange County, VA with your dog can be a wonderful experience – but you have to make it such.
Meta description: Moving to Orange County, VA with your dog in the days to come? Then read our article and learn how to get ready for it.
https://www.pexels.com/photo/white-shih-tzu-puppy-on-fabric-sofa-chair-981062/
https://www.pexels.com/photo/woman-girl-animal-dog-4056535/
https://www.pexels.com/photo/man-love-people-woman-5482207/
https://www.pexels.com/photo/woman-lying-on-a-bed-and-looking-at-her-laptop-5122167/
Whether you're looking for homes for sale in Lake of the Woods VA or Waterfront property in Virginia we are your Real Estate Advisors for Stafford, Fredericksburg, Spotsylvania, Locust Grove, Central Virginia, and Greater Virginia. Thinking of selling? In any market condition, "what is my home worth?" is the #1 question asked by homeowners. If you wish to sell your home, it needs to be sold for top dollar and in a timely manner. Pricing your home accurately, Pat will partner with you to make the selling process so much easier. Get started today by calling us at (540) 388-2541 or contact Pat Licata.
To see available Lake of the Woods properties, please visit our site.