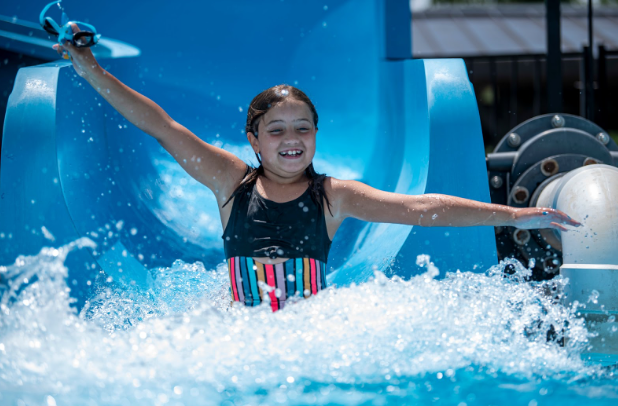 Greetings, adventure seekers and fun enthusiasts! If you're looking forward to a getaway to create unforgettable memories with your family and friends, it's only a few years away, as ground has been broken in Spotsy! Kalahari Resorts & Convention Center is bringing a one-of-a-kind experience to Spotsylvania County, Virginia, and I'm here to give you a sneak peek into the excitement that awaits.
Unveiling a Wonderland in Spotsylvania
In 2026, the grand doors of Kalahari Resorts & Convention Center will swing open, welcoming guests to a sprawling paradise that's unlike anything you've ever seen. This $900 million wonderland, situated conveniently off I-95, is set to be Virginia's largest indoor waterpark and convention center, making it the ultimate adventure destination for families in the DC-Maryland-Virginia metro area and beyond.
Splash into Adventure
Kalahari Resorts & Convention Center is renowned for its unique blend of America's Largest Indoor Waterpark Resorts and world-class meeting and convention spaces. This massive resort will boast over 175,000 square feet of indoor waterpark fun, featuring hair-raising waterslides, wave pools, a thrilling kids' play area, and even indoor surfing. Every guest's stay includes complimentary access to this aquatic wonderland.
Adventure Awaits Indoors and Outdoors
But the excitement doesn't stop there. The Tom Foolerys Adventure Park offers a plethora of indoor attractions and activities, including a ropes course, arcade games, zip lines, and climbing walls. If you're craving more thrills, the 90,000-square-foot indoor theme park has you covered with a ropes course, climbing obstacles, zip lines, laser tag, mini-golf, and an impressive selection of arcade games.
For those who like to stay active even during their vacations, Kalahari Fitness and Training provides an on-site fitness studio complete with free weights, machines, and more. Plus, there are 24-hour fitness centers for the night owls. And yes, free WiFi to share your memorable moments!
A World of Accommodations
Choose from a variety of room styles to cater to your needs and preferences. Whether you're traveling with family or friends, you'll find options like Single Suites, Double Queen Sofa rooms, King Bunk Suites, and King Suites featuring whirlpool tubs for a touch of luxury. Every room is beautifully appointed with imported African art and artifacts, creating a unique and inspiring atmosphere.
More Than Just Water Fun
At Kalahari, creating experiences for everyone is the mission. Beyond the waterpark, you can enjoy character visits, cutting-edge arcades, mini-golf, live entertainment, and unique retail shops. Be sure to check out the wide array of goods hand-picked by family owners, and supplied by African partners, to bring back a piece of Africa as a lasting memory of your getaway.
A Culinary Adventure
World-class dining is a significant part of the Kalahari experience. The resort features an array of restaurants, from Double Cut Steak House offering robust selections to Sortino's Italian Kitchen, delivering the flavors of Italy. Cinco Niños serves modern Mexican cuisine, while B-Lux Grill & Bar tempts you with unique burgers and shakes. And for those with a sweet tooth, The Last Bite will satisfy your cravings.
Perfect for Business and Beyond
For those looking to mix work and play, Kalahari Resorts & Convention Center offers over 150,000 square feet of meeting space, diverse shopping, and expansive venues. The resort transforms business meetings into enjoyable family experiences, bridging the gap between obligations and enjoyment.
Cherish Life's Moments
But Kalahari isn't just about business; it's also about the celebration of love and family. Imagine having your wedding at Kalahari Resorts, where every detail, from catering to activities, is taken care of. It's a day that you and your loved ones will remember forever.
Meeting Expectations and More
Kalahari Resorts & Conventions is your ultimate all-under-one-roof experience. From trade shows to family reunions, it's an ideal location for any gathering. With versatile meeting spaces, stunning accommodations, and exceptional amenities, we ensure picture-perfect stays, meetings, and experiences that go beyond expectations.
So, are you ready for an adventure of a lifetime? Unfortunately, you'll have to wait for the doors to open! Kalahari Resorts & Convention Center in Spotsylvania, VA, is poised to be the destination for making unforgettable memories with family, friends, and colleagues.
 Kalahari – where every moment is an adventure waiting to happen. 🌴💦🌞🎉
Whether you're looking for homes for sale in Lake of the Woods VA or property in Virginia, we are your Real Estate Advisors for Stafford, Fredericksburg, Spotsylvania, Locust Grove, Central Virginia, and Greater Virginia. Thinking of selling? In any market condition, "What is my home worth?" is the #1 question asked by homeowners. If you wish to sell your home, it needs to be sold for top dollar and in a timely manner. Pricing your home accurately, one of our expert advisors will partner with you to make the selling process so much easier. Get started today by calling us at (540) 388-2541 or contacting Pat Licata. To see available Lake of the Woods properties, please visit our site.